.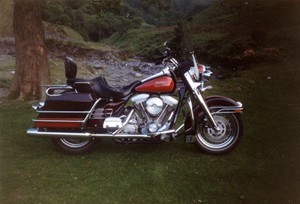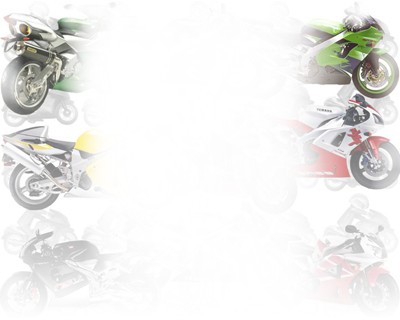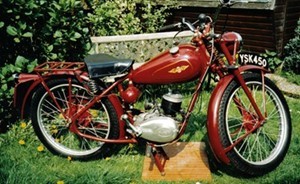 The bike looked similar to this one, when I bought it, only tattier and rusty.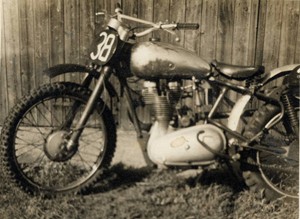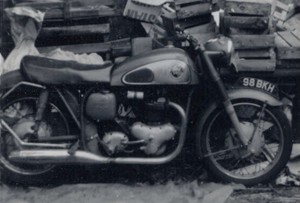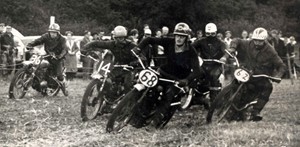 &nbsp The Year is 2012



Montesa Cota 315R 250cc. Pure fun on two wheels.
I enjoyed many Trials on this bike.
The Year is 2013
Susuki GSX 750F my first road bike for 20 years.
I am amazed how much power it has.
Top speed is 150mph.
MY BIKES
I ONCE OWNED and OWN NOW.
My first bike, not this one but one just like it. It was a 98cc James, it was given to me, and at 12 years old I used to ride it round the back field. I used to pretend I was a speedway rider and practice sliding around corners!!!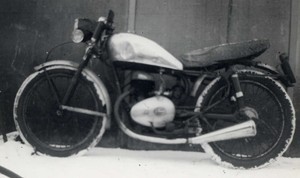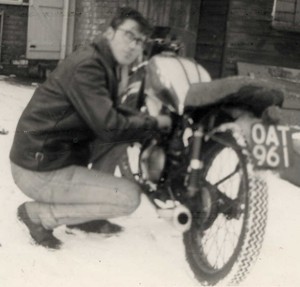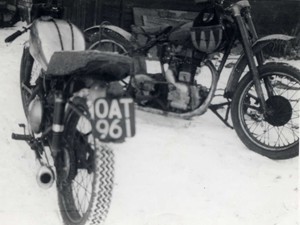 My 197cc Villiers engine Frances Barnett Falcon I dressed up with big B.S.A. tank,
clip on handlebars, megaphone and alloy mudguards. Well I was only 16 at the time!

Me in my Rocker gear, leather jacket, sideburns, light blue jeans and winkle pickers.
Boy!! it felt good when your so cool.
The 197cc Frances Barnett I bought for 18 Pounds and I remember the first time I rode on the road with it on my 16 birthday. It felt so great to riding free as the wind, with my chin resting on the tank doing an incredible 45 M.P.H.

The bike in the background is a 350cc Royal Enfield Bullet, I bought it for 4 Pounds and used to race around the Farmers fields were I used to live.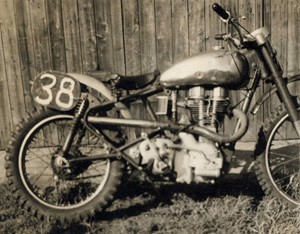 350cc Royal Enfield Bullet Works Trials. I had a go at Scrambling and Grasstrack on it, when
I was 16. I also taxed and insured it and ran it on the road. The lights were bicycle battery lamps. These were legal at the time, and I never owned a crash helmet, so rode without one.
t'other side.

I remember my first scramble, I was last, and the bike had no power so could not climb a steep
bank. The leading rider was going to lap me and didn't realize how slow I was. He smacked into
the back of me and came off. He got back on his bike, and as he passed me to go on to win, he
gave me a black look that I'll never forget.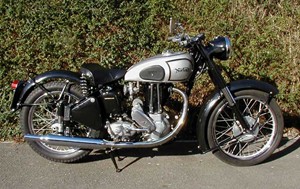 Not my bike, but had one just like this 500cc Norton ES2. Ran it as a solo and later put a sidecar on it, which was just a box with weights in it bolted on the sidecar chassis. Went on some great camping trips on it and had some spectacular crashes with it. I once let a friend drive it with me on the back. At 50 mph we came to a left hand bend which did not make. We missed a big oak tree by inches, went through a hawthorn hedge and down a 10 foot drop onto a farmers muddy plowed field. Bike and sidecar parted company. We struggled to our feet, probably through shock we started laughing. The soon stopped when we realized the only way back onto the road was through the farmyard and past the farms front door. We tied the bike and sidecar together with some string and wire, and pushed it with the engine running past the farmer and the farmers wife glowering at us.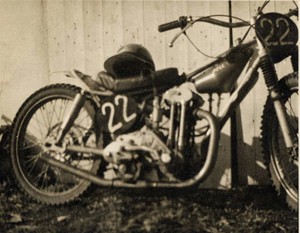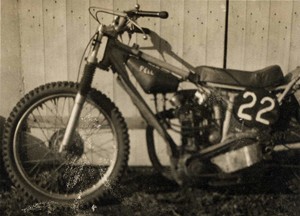 My first Grasstrack bike a 350cc Jap powered Pell. I was renowned for the best tank slappers in
East Yorkshire.
More of the Pell showing the steepness of the forks. My Dad altered the
frames headstock so it had more rake which sorted it.
(right) This was taken at a Hull Grasstrack meeting, posing on it. I was 18 years old.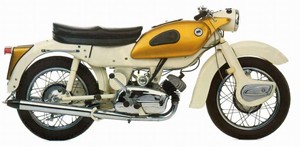 I bought a secondhand Arial Arrow, tided it up, but sold it before I got it on the road.
I haven't got a photo of it unfortunately.
This is just a page of nostalgia for my benefit.
*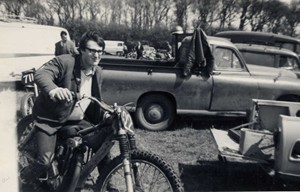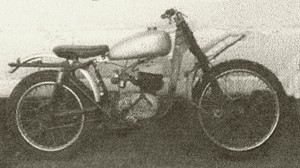 250cc Greeves Scottish Trials Bike. My first trials bike, did not have a lot of success with it. Trialling was a winter sport when I was young. I remember those cold snowy winters well. I used to transport the bike to trials in the back of a Mini Pickup, me and my girlfriend (now the Wife) in the front. It snowed all day, and when we set off home it was still snowing. Down the road we stopped to help two friends who's pickup had broken down. We couldn't get it going so decided to put their bikes in our pickup. We traveled 50 miles in deep snow covered roads, pushing it up the hills, with 3 bikes in the back and 3 passengers in the front, all in an 850cc Mini Pickup. It was quite an adventure and often talked about.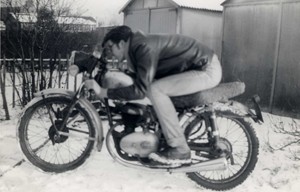 (right) Posing on the Frances Barnett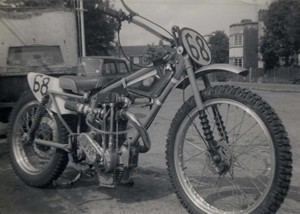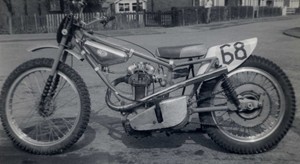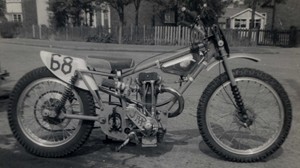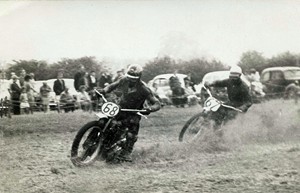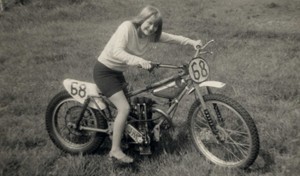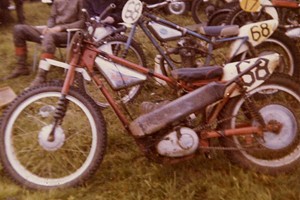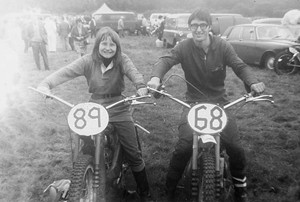 The year 1958
The year 1962
The year 1963
The year 1964
Hagon, To keep the weight down I fitted speedway
'single gear' countershaft.
The years 1965, 1966, 1967
(right)The Hagon was a winner straight away. In the lead at a
Pickering meeting.
(right) Me in front of my Hero Ken Moss.
Hagon Grasstrack Bike, I built it during the winter months.
Most of the parts were stored under the bed.
Hagon. The engine was a 500cc Big Port Jap, with an Amal Concentric carb.
(right) Shelby tries the Hagon for size.
br/
Our 500cc Norton Dominator we had for a few years. Wideline Featherbed frame, Roadholder forks. This was a fantastic bike, had some great rides out on it. Kept it for 8 years and sold it for 450 Pounds. If only I'd known!
(right) Shelby and Dave enjoying married life.
250cc Maxmade Grasstrack bike, the Villiers Starmaker engine was not very reliable. This was the bike Brian Maxtead won the 250cc National Grasstrack Championship on. I rode it for a couple of years, then gave it to Shelby to ride. She was the only woman grasstrack rider at the time.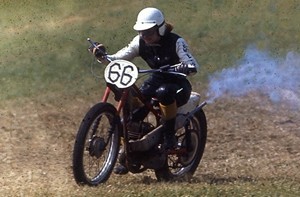 (right) Shelby on the Maxmade in full flight
Video of Dave Grassing when he was 20 ---
CLICK HERE
The year 1968
The year 1971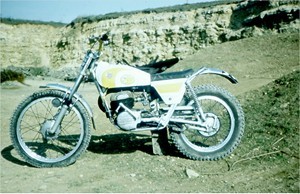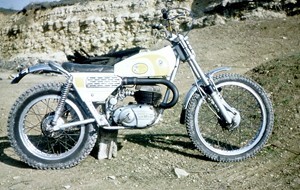 250cc Bultaco Sherpa Trials bike, nice bike, softer engine than my Greeves. Giving it a lot more grip.
I put a Mikuni carburetor on it, and it was my paint job.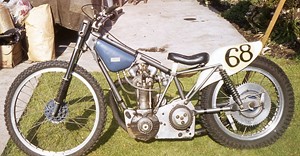 Short wheelbase 500cc Grasstrack Bike, really fast gater. The front wheel used to pore the air when I left the start line. Shifting my weight to the back of the bike to stop the back wheel spinning which gave it fantastic acceleration while at full power. Due to bad welding by the maker, the frame broke in two (the down tube came away from the headstock) while I was racing. I broke my leg in two places.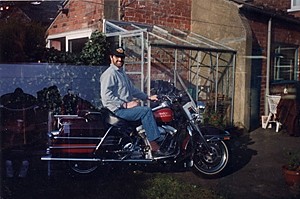 Harley Davidson Electra Glide 1340cc. We bought this bike in California U.S.A. and rode into Mexico, then across the States to Daytona, Florida. We brought the bike back to the U.K. Went on a lot of camping trips on it, including T.T. week at the Isle of Man. We insured it but ran it on the California Registration Plates and never taxed it. We had some puzzled looks from some Bobbies.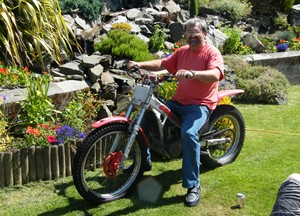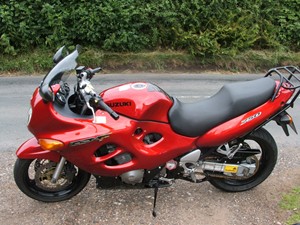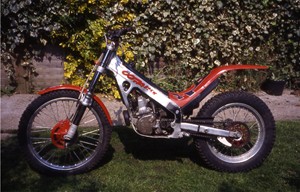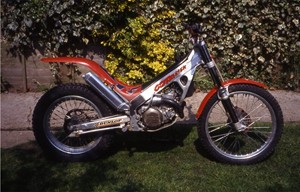 Managed to win a few trophies on this bike, best novice etc.
Only just sold it.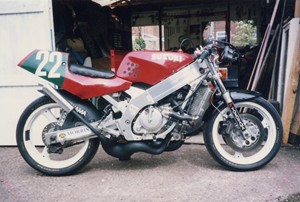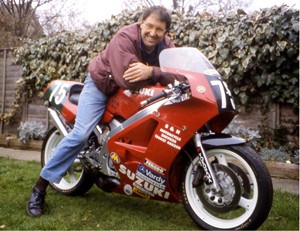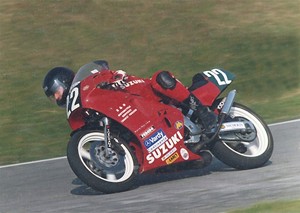 The year 1979
125cc Honda TL Trial Bike. With its reliable 4 stroke engine. I managed to get a 4 stroke award at
Scarborough Clubs trial at Lownorth Park.
The year 1992
250cc Yamaha TY Trials Bike. Bought this bike in 1979 and still have it, and enter Twin Shock Trials with it.
My 250cc RGV Suzuki in racing trim with the fairing on. Raced at Cadwell and Elvington, best result 3rd at Cadwell.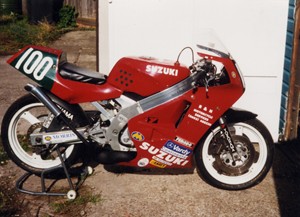 The RGV with the fairing removed.
(right) at Cadwell Park track. I so wish I had taken up road racing when I was young.
(right) looking pleased with the good road holding and quick turning of the bike.