A CRUISE to the WEST COAST OF SCOTLAND with 'Callisto of Parkstone' in 2005
by Dave and Shelby Milner.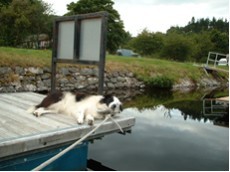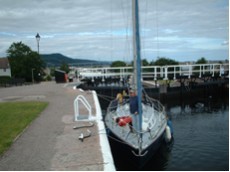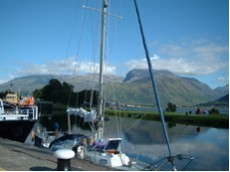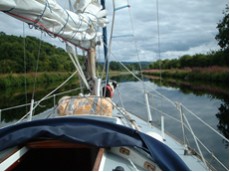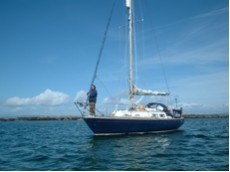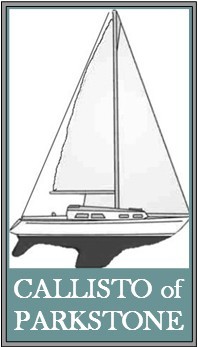 HOME
Dave rebuilt the engine in 'Callisto' our Elizabethan 30 over the winter We planned to sail her North to the West Coast of Scotland this summer and leave her there for a few years. Our border collie Jack has been sailing on the Humber with us, but never done a night passage so we decided to take him with us for the summer. We moved down to Hull Marina in July so that we could leave whenever the weather was okay. Jack had never been in the dinghy so we inflated it at the marina and we thought that the rubber floor might worry him, but as soon as it was in the water he jumped in and refused to get out until he had been rowed around the marina. The next thing we had to think about was getting hold of an artificial grass mat for Jack to use at sea. A trip to the local fruit shop secured one free of charge. So we were fully equipped to sail with a dog. Sunday 17th July was a lovely day with a good forecast so we set sail for Whitby at 14.30hrs. We had a great sail down river and as we reached Spurn light vessel we turned North and the wind was on our starboard quarter. It rose and fell all night and as we reached Runswick bay it stopped altogether so we started the engine to make sure that we reached Whitby in time. High tide was at 14.00hrs and we entered the harbour at 15.25hrs and called the bridge to find that we were just in time for the last opening at 15.40hrs. We motored into the marina and rafted to a boat from the Amble. Jack had been on the boat 24 hours without going to the toilet at all so Dave took him ashore for a walk and a swim. The night passage with him had been great, we expected him to want to be on watch with whoever was awake, but he just slept on the saloon floor next to the one of us who was asleep. Distance run 91.5nm. Dave and Sue, who we met last year in Peterhead live in Whitby and took us to their home for dinner. It was great; their plans to sail off have been put on hold until they sell their house. The forecast is for strong N.W. winds so we decided to stay for a few days to see the tall ships that were due to visit at the weekend. They berthed opposite us at Endeavour Wharf and we strolled around to view them. We had a visit from Derek another Elizabethan Association Member who had called into Whitby on his way back to the East Coast rivers. He is the first Elizabethan owner that we have met and it was great to have a look at his Elizabethan 31. The wind remained strong N.W. until Tuesday 26th July. We set sail at 10.00hrs heading North for Hartlepool, it was a fast sail and we arrived outside the harbour at 14.30hrs, and called the lock keeper who informed us that there was only .5 metre in the channel, so we dropped anchor for 2 hours, it was very rolly but good holding, we were glad to tie up inside the Marina at 17.00hrs. The North winds increased and we were waiting for 6 days at Hartlepool. Jack loved it as there was a great beach nearby. We listened to the radio and heard that 4 of the tall ships had turned back to Newcastle, because of the strong winds. One of them with a broken mast. Distance run 25nm Monday 1st August. We got a forecast if N.W.0-2 so we decided to leave for Blyth. Fortunately the wind turned S.E. and we had a great sail arriving at 19.00hrs. We took Jack ashore for a walk; then had showers and a drink in the club house. It is a good forecast for the next two days so we decided to leave tomorrow for Peterhead. Distance run 27nm. Tuesday 2nd August. We left Blyth at 07.15am after taking Jack for a walk. The wind was light SW and we had to motorsail for 2 hours. Finally we got a nice 3 to 4 and started sailing at a healthy 5 knots. During the night Forth Coastguard gave a forecast of West 4-5 occasionally 6. At 23.00hrs the wind increased and Dave went out to put a reef in the main, as he was doing it we were hit by a squall so he put three reefs in. We settled down nicely doing 6-7 knots. As the wind increased the sea picked up and became heavier but the boat did not take on any water and it was an exhilarating sail, Jack took the heavy weather in his stride curling up on the saloon floor and sleeping through it. We had a fast passage to Peterhead and arrived at The Skerries just South of Peterhead at 13.00hrs. on Wednesday 3rd August. We were hit by another squall and the heavens opened drenching us, visibility was bad so we waited for it to blow over before we called the harbour for permission to enter, finally tying up in the Marina at 14.00hrs Dave took Jack for a walk; he had been at sea for 31 hours and really needed to go to the loo, as he would not use the artificial grass. Distance run 151nm Thursday 4th August we checked the oil and did a few little jobs. The wind is strong NW and we will have to wait until it dies down or changes direction before we round Rattery Head. Tuesday 9th August. The forecast was for light North winds so we decided to motorsail to the Moray Firth. We left the marina at 06.00hrs and headed North. There were very big rollers but the sea was not too rough. The marina master had advised us to give Rattery Head at least 4 miles offing and we had to tack all the way and then beat down the Moray Firth to Whitehills harbour. The entrance looked horrific with big breakers and surrounding reefs so we called the harbour master to ask if it was safe to enter. He came to the harbour wall and talked us in. It is a very narrow entrance with a sharp left turn into the harbour. He put us in the inner harbour as it is more protected. There are excellent facilities here with washing machines and a small sitting room with a microwave which is for our use. Distanace run 45nm Thursday 11th August. We left Whitehills harbour at noon with a light westerly wind on the nose and motor sailed to Lossiemouth. There were still quite big rollers but they died down as the wind disappeared and the sea became glassy.We arrived at Lossiemouth at 18.00hrs and called the harbour master but he did not answer. He came around and told us to see him tomorrow. Distance run 24nm Friday 12th August. The glorious twelfth and our 37th wedding anniversary. We decided to stay tonight as the wind is still west but forecast SE tomorrow. >Saturday 13th August. We left Lossiemouth at 06.00am with a light SE breeze. It was lovely and calm and we enjoyed the spectacular scenery along the Moray coast. We reached the Channory narrows at 13.30hrs, just as the SW flow started and sailed straight down the middle and arrived at the Caledonian Canal buoy at 15.00hrs. As we sailed under the Kessock bridge we called the canal and arranged to lock in at 15.30hrs. It was becoming very overcast and as we entered the lock it rained heavily, drenching us. We paid £138 for an 8 day transit and locked into seaport marina for the night. We walked Jack to the local Co-op and bought supplies for the evening. Distance run 38.5nm Sunday 14th August we had showers then set off down the canal. We went through a swing bridge, and four locks at Muirtown then another swing bridge and arrived at Dochgarroch pontoons for the night. There is another boat called Callisto , with a dark blue hull, which is berthed here permanently and we are confusing the lock keepers when we call up. The boat next to us is a charter boat and they have given us all their spare stores as they are going home tomorrow. Jack loves it on the canal as he can swim to his hearts content once the locks have stopped operating for the night. Distance run 4nm Monday 15th August. We passed through the lock at 14.00hrs and motored towards Loch Ness. The wind was from the SW and on the nose, as we entered the lock we hoisted the sail and tacked back and forth across the loch. We sailed close up to Urquart Castle and into Drumnadrochit bay and picked up a visitors mooring for the night. Distance run 10nm. The next day was lovely and we decided to stay as the scenery was spectacular. Dave took Jack ashore for a swim. We left the next day at noon and had to tack into a strong SW The rain started as we arrived at Fort Augustus. The lock was very busy so we had to raft up for the night. Distance run 20nm Thursday 18th August. The lock keeper decided to do a double locking as there are so many boats. The yachts went first and then the motor cruisers. We had to walk the boat between the 5 locks. We tied to the jetty at the other end and went shopping. Finally at 16.00hrs we set off to Loch Oich where we tied up to a jetty near a picnic area for the night. It is still raining. Distance run 6.5nm Friday 19th August. We motored into the wind down Loch Lochy and arrived at Gairloch at 17.00hrs; we went through the lock and stayed on the jetty at the other side for the night as it is nice and quiet. Distance run 10.3nm Saturday 20th August. We motored to Banavie and had showers at he excellent facility block, we had a wonderful view of Ben Nevis as we locked into the first of the eight locks which make up Neptunes Staircase. The boat had to be walked between locks again and the transit took us one and a half hours. It was a beautiful day and we motored to Corpach basin for the night. Distance run 10nm Sunday 21st August. We locked out of the basin at 08.15hrs and sailed past Fort William to the Corran Narrows. As we reached them we were doing 7.5 knots and went through several whirlpools. The wind increased and we sailed SW towards Oban along the East coast of Lismore Island. 5 miles from Oban the wind increased and Dave had to put a reef in the main. It rained very heavily and we were soaked by the time we tied up at Oban Yacht Services on Kerrera Island. Distance run 27.9nm Monday 22nd August we caught the taxi boat to Oban and went to Tesco to replenish our stores. Force 9 gales are forecast for Wednesday so we decided to stay at Kerrera until they pass over. >The gales blew all week peaking at a force 10 and we kept our eye on the barometer, which fell really quickly. On Monday 29th August the forecast was for SW 5 or 6 so we decided to leave and head up the sound of Mull. It was very rough in the Firth and the wind went NW so we decided to beat into Craignure Bay for the night. Distance run 12.4nm Tuesday 30th August It was a lovely morning and Dave took Jack ashore for a run before we set sail at 09.00hrs. The wind was SE 4 or 5 and we goose winged all the way to Tobermory, covering the 15.9 nm in 3 hours. We picked up a mooring which cost £12 a night and went ashore. It was a lovely balmy evening and we had sundowners in the cockpit as the sunset. Distance run 15.9nm Wednesday 31st August. It is pouring down but the forecast is S-SE 4-5 so we have decided to sail around Ardmurchan Point, the most westerly point on the British mainland, to Arisaig. The wind was very light at first so we motorsailed. We saw a lot of porpoises and Jack was facinated by them. There were not many boats sailing in this area. We arrived off Arisaig at 16.00hrs and wound our way down the channel taking a mooring for the night. We went ashore to arrange to leave the boat here for the winter. It is going to be hauled out and stored ashore ready for some serious cruising next summer. Distance run 26nm We tied the traditional bunch of heather to the bows before we were lifted out to celebrate having rounded Ardmurchan Point for the first time. The boat is now ashore and prepared for the winter. We have been very pleased with Jack on the cruise, we found out a lot about cruising with him. Firstly that he has the sense to stay below in bad weather and secondly that he manages to go a long time without going to the loo. He is a great sailing companion and lots of tourists took photos of him as we went through the Caledonian Canal. We look forward to sailing with him again next year.

Total Distance run on cruise 552.8nm..Dave and Shelby Milner and Jack the dog



.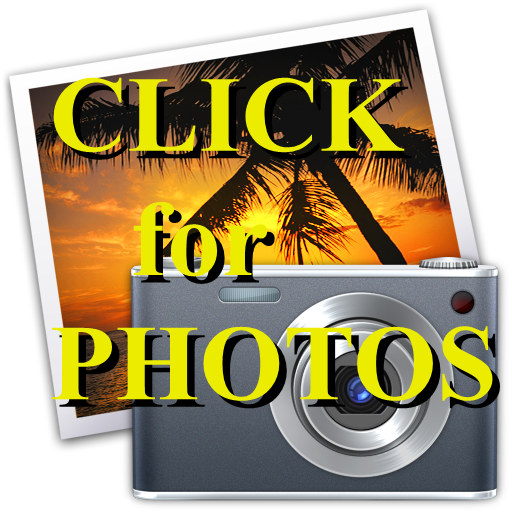 HOME to DAVE and SHELBY'S HOMEPAGES